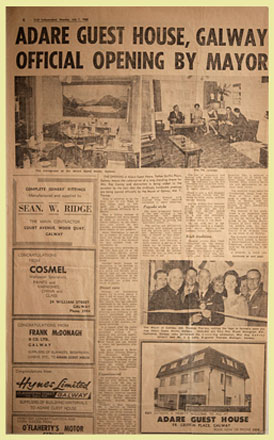 Adare Guest house was officially opened on 1st July 1968 by my parents Pat and Kay Conroy.
My mother was born in a little village in County Limerick called Adare which is where we
got the name for the Guest House. Before opening the Guesthouse my mother was trained in
the first catering school, which was located in Shannon.
Before the advent of the concept of the Guest House brand in Ireland all that was available
was Hotels and Boarding Houses, so Adare Guesthouse is very unique in that it was the very
first Guesthouse opened by the Lord Mayor of Galway on July 1st 1968.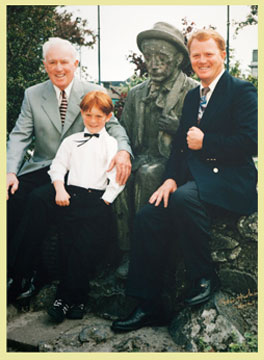 My father was born in Rosmuc, which is located In Connemara and served as an Irish policeman for 40 years in Galway city.
The Conroy name comes from the Irish word O Conaire and the family is related to the west of Ireland poet and writer Padraic O Conaire. The picture shown was taken when the statue of Padraic O Conaire which was positioned in Eyre Square and contains three living generations of Conroy's, my father, my son Colin and I. This picture hangs in our dining room and is also on display in Galway city museum.
The Guesthouse is now operated by my wife Grainne and myself Padraic which has been extensively remodeled to a excellent finish. In addition to providing all the services that are available in the Guesthouse we are only too pleased to offer advice on any events which may be happening in and around Galway. We have provided a list of many tour providers in our useful links page that we know personally and we are only too pleased to assist you to organise any of the tours available. We hope your stay with us will be as enjoyable as possible and for you to go home with happy memories of your stay with us.