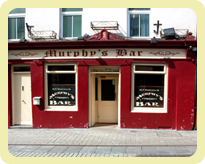 Restaurants and Bars
Adare Guesthouse is located within a 5-minute walk of Galway's finest restaurants and bars. Quay Street, also known as the Latin Quarter, is just over O'Brien's Bridge; it has Galway's finest selection of French, Italian, Thai and Irish restaurants.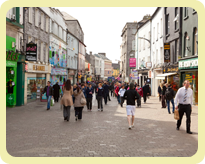 Shopping
Galway is a great place for shopping, from the usual high street brands to original antique stores Galway has the lot including our famous bustling market where you will find hundreds of stalls selling fresh produce and locally produced crafts.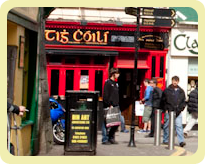 Traditional Music
Galway is famous the world over for its love of music. The streets of Galway are always lined with buskers and street entertainers. You can also visit many of Galway's Traditional Music pubs including The Crane, Taffes Bar, Tig Coili and The Quays.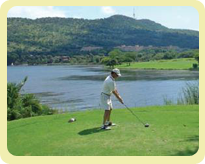 Golf
Galway has the highest concentration of Golf Courses in the west of Ireland. The Galway Golf course is within walking distance of the Adare Guesthouse in Salthill. There are many other courses surrounding the city including Glenlo Abbey and the Galway Golf resort.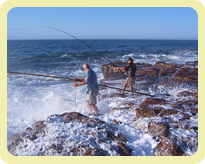 Fishing
Not only is Galway blessed with its location to the Atlantic Ocean it is also sitting on lough Corrib and close to many rivers. Whether you are looking for brown trout or sea bass there are plenty of fishing opportunities not far from the Adare Guesthouse in Galway.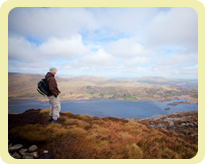 Walking
Galway is a fantastic spot for walking. Some of our guests enjoy a leisurely stroll through the medieval city taking in sights such as The Spanish arch and Eyre Square while the more adventurous have the stunning landscapes of Connemara to explore.